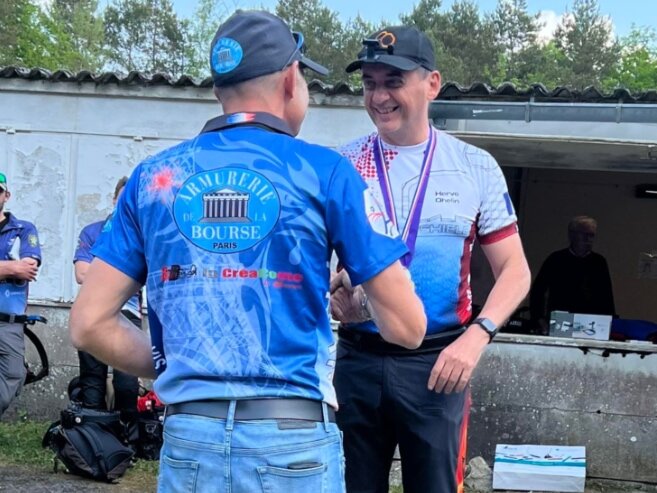 Champagne Trophy 2022
2022-05-09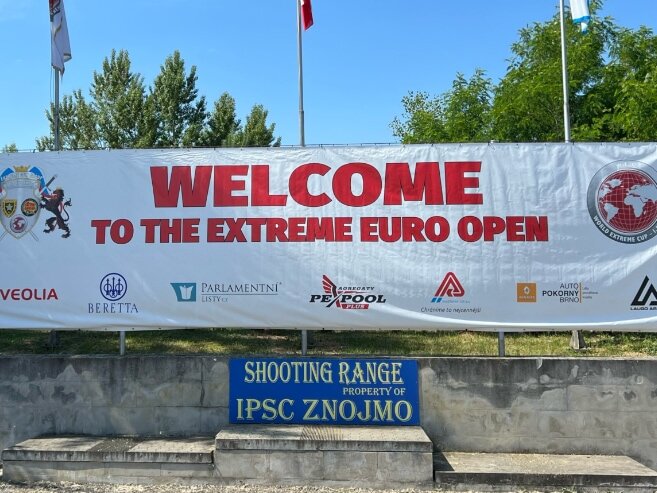 Extreme Euro Open 2022
2022-07-04
Infinity Open 2022
Last weekend we shot the Handgun Level III Infinity Open 2022 match in Philippsburg, Germany. 2 years of postponement because of the COVID 19 pandemic, but finally the match took place. As usual there is a flawless organization in Germany! We have to admit that they are very strong. I found the match more technical than the 2019 edition, lots of mechanisms, plates, and mini targets. Some of the mechanisms were quite special and they gave us a hard time. But no video, it's forbidden in Philippsburg! It's a pity for those who can't go there, they could have seen what an Infinity Open is.
I shot Production Optics, with my CZ Shadow 2 and Shield RMSx red dot. I had re-loaded my cartridges to be at a 130-131 factor. No worries, I had no shooting incident. The CZ Shadow 2 and Shield RMSx pairing still didn't betray me. To be honest, I was still lucky, 3 days before the match for the last training I broke my slide stop. The first time since 2019 on one of my Shadow 2. It was better there than during the match. Fortunately I had an Eemann Tech slide stop in advance….Thanks IPSCSTORE 🙂
Mixed results Infinity Open 2022
The match included 19 stages to be shot in 2 days for nearly 380 shots minimum. We were only 2 French in the squad 20 surrounded by German and Swedish.
I started the match very badly…1st stage I passed first (I passed first twice on the match), not that I was particularly anxious about it but as I am a diesel I had no choice to start cool. So I finish this 23 shots by shooting on a half target at 5m without looking at it too much. I ejected my magazine, I looked at the target and I saw that it misses an impact…I stretched my arm and shot the bullet that was chambered… Bravo 3s in the view 🙂 I avoided the "Mike" on the first stage that would have certainly annoyed me, we console ourselves as we can…
Over the whole match I only did one mike and 3 delta, a little too many C's for my taste, a lot of A…. but slow average times. I felt like I was moving fast, but I need to work on my draw which is slow and some transitions where I'm too slow. I did some very good things (for my level), the speed shoot of stage 11 with 11 shots that Eric Grauffel passed in 3'40 in full Alpha, I passed it in 4'95 with a C. There were 2 plates, a popper, an up and down in addition to 2 half targets. To finish on a positive note, I finished the last stage of the match (stage 17 of 23 shots) in full Alpha.
I finished at 77,42% overall and at 0,5% of my direct competitor in front of me, so I finished 2nd in my category. I had beaten this German shooter at the Bul Cup last October with about the same difference in points, he took his revenge this weekend. We only have the Extreme Euro Open 2022 in less than 2 weeks to decide between us 🙂
AST Roissy at the Infinity Open 2022
The team has still performed well, Emile Obriot takes the first place Overall in Open, Thierry Obriot the second place in Super Senior Open, me second in Production Optics Super Senior. So 3 podiums for the AST Roissy club !!! PIM PIM !
In Production, Sébastien arrives 4th at the foot of the podium in Production! We miss a podium in Production Lady because of pregnancy… 🙂
Résultats Infinity Open 2022
Résultats Infinity Open 2022 Stages
Résultats Infinity Open 2022 Categories
Résultats Infinity Open 2022 Regions