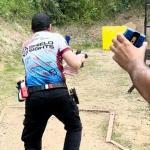 Extreme Euro OPen 2023
2023-08-17
European Handgun Championship 2023
We'll be shooting at the European Handgun Championship 2023 in Corinth, Greece, from September 18, 2023. Some forty French shooters will be making the trip, including 12 from AST Roissy. A very good performance for the club's IPSC section. Of the 12, we'll have 2 Ladies and, above all, 1 Junior, who has signed up for the Junior Production team. It's been a long time since France engaged a Junior team.
Many of us will be shooting this competition during the pre-math, and I'll be squatting with Cédric in squad 152. So 24 stages to be shot over 4 half-days of 6 stages for a total of 464 round minimum. There are relatively few mechanisms throughout the match, lots of mini poppers, noshoot and no strong or weak hand stages.
Production Optics Division
As usual, I'll be shooting in the Production Optics division with my CZ Shadow 2 Prod Optic Ready paired with Shield RMSx red dots. I've prepared my 2 weapons with Eemann Tech competition kits. I'm leaving with 5kg of my own ammo, but I've bought 500 match ammo. I'll see what I can shoot. The match ammunition is GECO IPSC 124gr, which I tested at the range and found to hit much harder than mine, even though they're at the factor (129 measured at the World Championship in Thailand last November) loaded with 0.32gr of N340. There's going to be a lot of competition, just like at the Worldshoot, so I need to shoot fast and accurately if I want to get closer to the podium.
We're leaving with the airline Transavia, and it's going to be a prayer with them to transport weapons and ammunition. We've validated with them, so we're keeping our fingers crossed.
Courses for the IPSC European Handgun Championship 2023 here
Pre-match shooting schedule here
Main-match shooting schedule here
Pre-match squads list here
Main-match squads list here