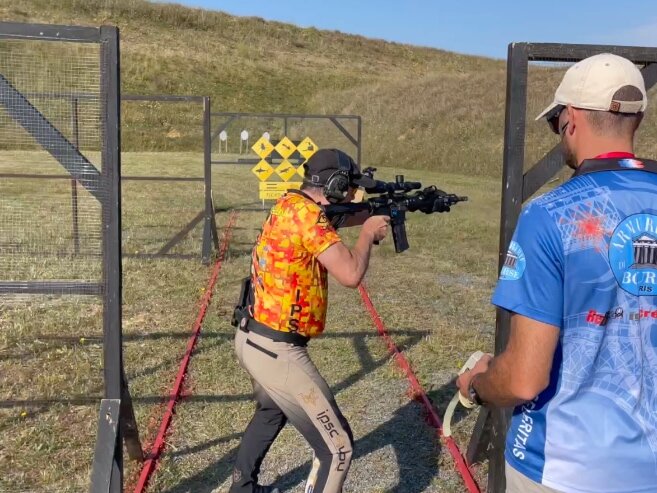 French Master Rifle 2022
2022-08-20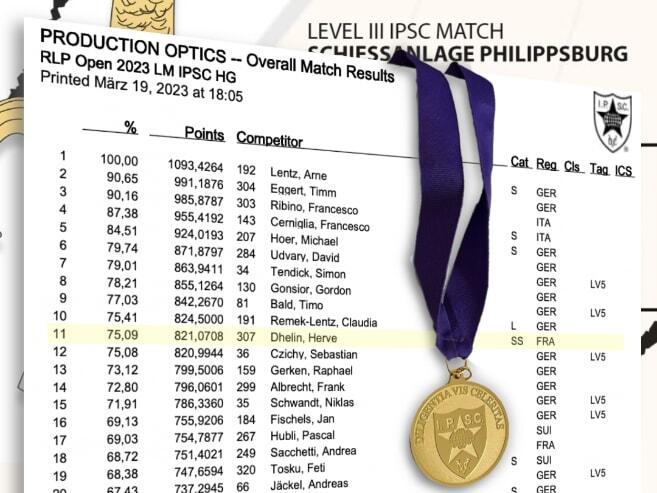 IPSC Handgun Worldshoot Pattaya 2022
The XIX IPSC Handgun Worldshoot was shot in Pattaya, Thailand from November 27 to December 2, 2022. A Match of 30 stages to be shot in 5 half days with a rest day in the middle. There were a little less than 600 shots to shoot. The Thai federation (THPAS) had done what was necessary to facilitate our entry into the country with our weapons. We had our import licenses a few weeks before departure and a Range Officer was waiting for us at the customs to check the weapon numbers. We went through in 10 minutes, one less stress. Stress that we had with the people to check the weapons, ammunition, number of magazine to leave the country … Thanks to the pilot of Air France who accepted to leave with more than one hour and half of delay because of us.
Very colorful stgaes
The organization had made a real effort to offer us deceptively easy courses, with lots of metal and mechanisms, all very very colorful. It was a change from our rather classical matches in Europe. We had to shoot lying on a massage table (Thailand obliges), sitting on the back of a buffalo (fake but real size) or in the middle of exotic plants and fruits. There was a very large eating area in the middle of the arenas to be able to eat, big difference compared to the CNTS in Châteauroux.
The Shooting
With our 12 hours flight and 6 hours time difference we had to start the morning shooting at 6:30 am, so we got up at 4:15 am, left for the range at 5:15 am to arrive 30mn before the shooting started. It was still early, but we quickly appreciated the shots "in the cool" at 6:30 am when it was already 30°c. It was very hot and humid, except the first day when we shot in the rain (hot!). My Lok Grips were the best, I had to add some EemanTech grip to be sure to hold my CZ. I had bought 500 match ammo in addition to the 350 I had in my suitcase. I didn't have any problems (not like Cyrielle or Dominique) with them, they were validated at 129 of factor.
Th eGear
I shot with my 2 Shadow 2 Prod Optic Ready, I had 2 rather strange jams that forced me to switch to my mullet. I will have to investigate to know what is happening. I had changed with the EemanTech kit all my springs and extractors before leaving to avoid problems, it seems that it is my ejector which has a problem…. Obviously it had not been changed. I shot with the new Shield RMSx red dots that I had received a few weeks before. This is the XL version of the extra large glass lens that Shield has just released. I had no problems with these new models that had just left the factory.
Not the expected results
I made less Delta (8) on the whole match than mike (9)! I forgot 2 targets on 2 stages… 🙁 4 mike and 2 procedures to start with, plus my 2 jams…Bye bye the podium in Super Senior, I finish 5th at 81% of the first. Otherwise I was accurate, I have more than 83% of A, but it was not enough to get on the podium of this world championship Ipsc. I'm not going to blame it on the weather, it was the same for everybody and the 1st Super Senior is Swedish…. So not really used to these temperatures either.
A disappointment for me but a big congratulations to Cyrielle of the club who finishes Vice-Champion of the world in Lady at only 7 points of the first.
For the first time I shot the shoot-off at the end of the competition, a duel shot on poppers, I got out in the first round! 🙂
Thanks to my club AST Roissy for the support and to my sponsors ipscstore, Shield Sights and Lok Grips
The videos of the 5 half-days of shooting
6 first day courses in the rain
6 courses of the 2nd day
6 courses of the 3rd day
6 courses of the 4th day
6 courses on the 5th and last day of shooting