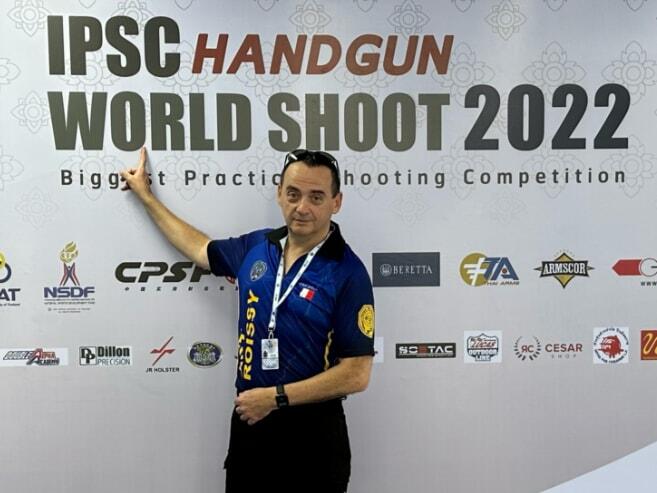 IPSC Handgun Worldshoot Pattaya 2022
2022-12-28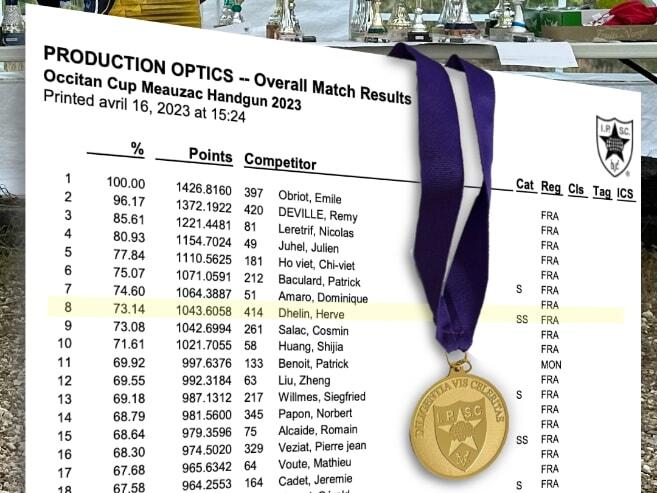 Occitan Cup 2023 Meauzac
2023-04-20
RLP Open 2023
I shot last week the RLP Open 2023 Handgun match in Philippsburg, Germany. A level III match to be shot in one day with 12 stages for 228 shots. I shot it in Production Optic with my Shadow 2 still equipped with a Shield Sights RMSx red dot. Before leaving and to avoid the incidents I had in Pattaya at the Worldshoot I changed the ejectors and extractors of my 2 Shadow 2 with parts received from IPSCSTORE (thanks to them).
The stages were quite technical as always in Philippsburg, with targets (poppers) at 40m, lots of plates and bobbers with either mini IPSC targets or half targets...Just for fun. I went with my buddy Cedric who shoots in Open, we were in Squad 3. One of the shooters had to leave after 3 stages and that put the mess in the shooting order on the remaining stages, so I passed in all 5 times first shooter on 12 stages..Not bad ! A good exercise :-)
Mixed results
I had a little trouble in the morning, to say the least, with 6 Mike.... With the astigmatism problem following my failed operation on my right eye, I don't see a red dot. but a red spot with my 8 MOA RMSx red dot. As there were a lot of targets and plates far away I ended up with a red dot bigger than the targets... It doesn't help and I had to do some extra shots. I've turned up my RMSx 4 MOA for the next few matches to avoid these kinds of jokes. I don't need that to add difficulty :-) The afternoon was much more correct and with much better results.
I was pretty fast overall, good moves, only 3 delta's in the whole match. I finished 11th in Overall at 75% behind Lentz Arne and first in Super Senior. The results could have been much better without my mistakes in the morning.
The material turned out well
I didn't have a single incident, so it seems that the IPSCSTORE parts solved my problem, to be seen on the next matches with more stages. I still like this red dot with a gigantic lens, I had to pass my CZ to several shooters in safety so they could appreciate the red dot at their request. The next matches before the French Championships at the end of May will be the Occitan Cup in Meauzac and the TVR Cup in Lain. I am still on the waiting list for the Infinity Open in Germany but squadded for the Extreme Euro in Czech Republic in June.
As the RLP Open match was held in Germany in Philippsburg, there is no photo or video, VERBOTEN!
Overall Result of the RLP Open here
Category Result of theRLP Open here
Stages Result of theRLP Open here