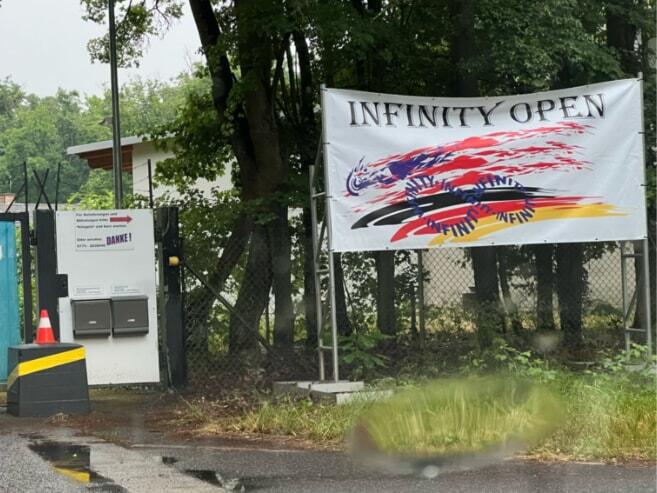 Infinity Open 2022
2022-06-07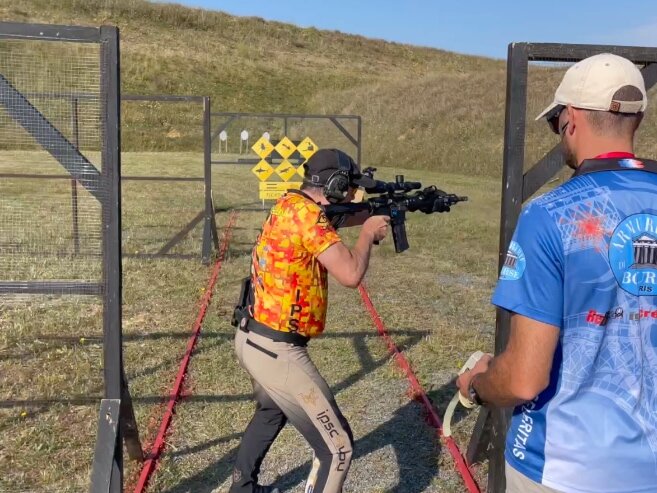 French Master Rifle 2022
2022-08-20
Extreme Euro Open 2022
We shot the Extreme Euro Open 2022 in Czech Republic last week, still at Hodonice shooting range with its 30 stages divided in 3 Areas.
So big match IPSC Handgun Level III, with 30 stages to shoot in 3 half days, 10 stages per half day for about 600 shots. There were about 55 nations represented, except the shooters from the Russian Federation who are blacklisted. The courses are not very complicated, there are just mechanisms on all the courses, not very fast which leaves opportunities to shoot one or two waiting targets. What is more complicated is to keep the concentration on 30 stages.
We had good weather, we shot on Thursday afternoon, Friday morning and Saturday afternoon. We avoided the rain on Saturday morning, but no tornadoes like last year with huge hail. It was hot as usual in Hodonice at this period but it was largely bearable. So a good vintage for this EEO 2022.
The entry in competition on Thursday
After our 13 hours of road and the gun check of Wednesday evening we had Thursday morning to rest before the beginning of the shootings around 1:30 pm. I was in the squad 48, only French, a cool atmosphere but with Milou who pushed us to take risks on some courses. As usual (unfortunately) I start like a diesel, no shooting on the waiting targets…just to wait for the bobber after triggering it and for a change on a long run…I forget a target…It starts strong! 2 mike and a procedure ! Gloups. The rest of the stages went well without more. No big mistakes, no great things, but no mike, no no-shoot, and maybe 2 or 3 delta. So the breakage is limited.
A much better Friday
It was time to get back on track and catch up with my forgotten target from the day before. We were shooting in an area with a lot of short course, few long course so not a maximum of points to recover. I shot pretty well, still no mike or no-shoot (and no missed target), and within 80% of A. I have a little difficulty to see the dark blue plates or poppers when they are on a dark background, my problem with my right eye does not help me in these conditions but I have no choice anyway … On one of the speed shoot refereed by the only French range master, Milou pushes us to take a risk and shoot 2 waiting targets knowing that one is a mini popper. I take the risk by saying to myself that anyway if I miss it I will see it again after the obligatory move to shoot the 2 papers which remain to shoot. And it worked, on my transition from the 1st waiting target to the bobber there is the mini popper, I shoot it in the passage and go on the bobber, when I leave the situation to go shoot the 2 remaining papers I see the mini popper which falls! Phew it's passed, at least one stage shot more than correctly.
The Saturday that spoils everything
Happy with my 2nd day, I tell myself that I have to continue on this dynamic. The 3rd and last area has a lot of middle and long courses, so I'll be able to get some points. Except that it didn't go as planned 🙁 3 mikes, a no shoot and time lost on targets that I missed and that I have to shoot back… 3 courses in a row that I screw up! I don't see the no-shoot at 20m, I announce low but not so much…when the 2 other mikes I don't announce them at all…Galère ! I focus on the last stages that I pass not too badly. The last stage again a speed shoot with Milou who pushes us to shoot the 2 waiting targets before shooting the bobber. I say no, I've already lost enough points as it is! During my last reconnaissance he pushes me and I give in, ok I'll try. I arrive so fast on the situation that I almost fall, a second to stabilize myself and I shoot the 2 waiting targets before the mechanism, it was largely passed I could have taken more time to take care of my shot, but it passes. I finish this EEO 2022 on a positive note, thanks Milou 🙂

The results of this Extreme Euro Open 2022
I finish at 67,39% of the first in Production Optic and second Super Senior at 30 points of my usual German competitor. I can only blame myself, I could have beaten him on this match if I had managed to be concentrated on these 30 courses. But that's the law of sport. Milou also came second in Open Overall at 1.5% of the first. We were 11 shooters of AST Roissy on this competition, it is enormous! I do not know if another club even foreign aligned as many shooters, and we missed 4 to the call! This EEO 2022 was the first one for some shooters of the club, I think that they took taste there and that they will return there! Better edition than the Extreme Euro Open 2021.
On the hardware side
Still no worries. My CZ Shadow 2 Prod Optic Ready (with Eemann Tech upgrade kit) associated with a Shield RMSx red dot did not betray me, no worries with my ammo either. The hardware worked, it's just who was behind the gun that screwed up 🙂 I'm dropping a few too many C's, I have a few D's. I'm making 77% A's, 19% C's and 3% D's. So I'm working on improving the accuracy of the second shot, I also need to work on my explosiveness. On the videos, the arrivals at the target are not too bad in general, I shoot the first shot on the target by putting the second foot down or even just before while moving. EEO 2022 with a first podium, I could not go up nor recover the price, we had to leave early on Sunday morning. The ceremony takes place around 2pm…too late for us.
The overall results of the Extreme Euro Open 2022 here